On Week 19, Day 1, we went to an anatomy scan for our growing little coffee bean. I was anxious to find out what's between its little legs. It started with measuring all of our baby's growing little body parts. The brain, the heart, spine, legs, and so on and so forth. I watched their little legs move and kick and at that moment I didn't care if they were ultimately an innie or an outie (IF YOU GET WHAT I MEAN) because I just was so happy they were alive and moving.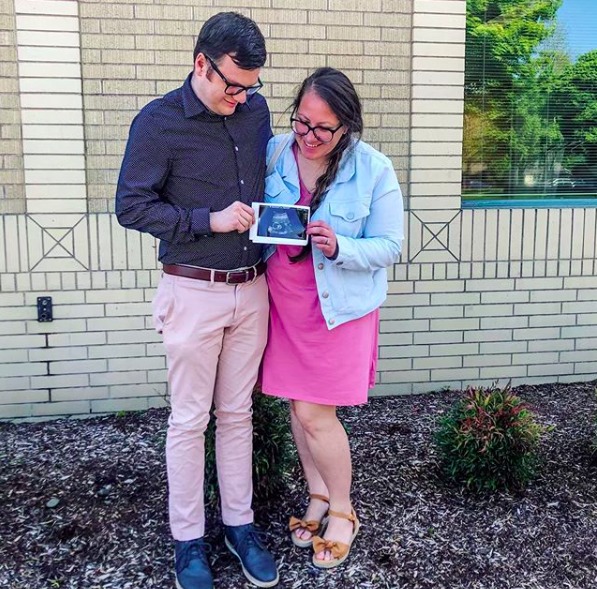 Week 19 Anatomy Scan! It's a GIRL!
Sandals / Dress / Similar jacket 
Up until that moment, I'd felt kind of disconnected from the pregnancy. If y'all remember, I'd been referring to it as a medical condition. But seeing our baby MOVING literally changed everything.
A few days later, I found myself at Disneyland with my mom. I was changing into my pajamas and noticed that my stomach – which is normally really squishy – had started feeling harder. I KNOW I haven't done any ab workouts in the past 4 years, so I started getting excited that maybe my body was starting to FEEL pregnant.
When I got home, Justen commented that I looked like I was developing a bit of a bump. I commented back "oh, instead of just being regular fat?" he didn't agree with that since he's a gentleman. But it's true, I mostly look in the mirror and feel like I LOOK the same.
I've been constantly looking up "overweight pregnancy week ______" (whichever week I've been in) to get a realistic idea of what other people looked like who started their pregnancy overweight.
Then I thought… you know what, I'll go ahead and share the last half of this pregnancy in case it helps other people feel less alone or secret about what's going on with their body!
Baby Martian: Week 20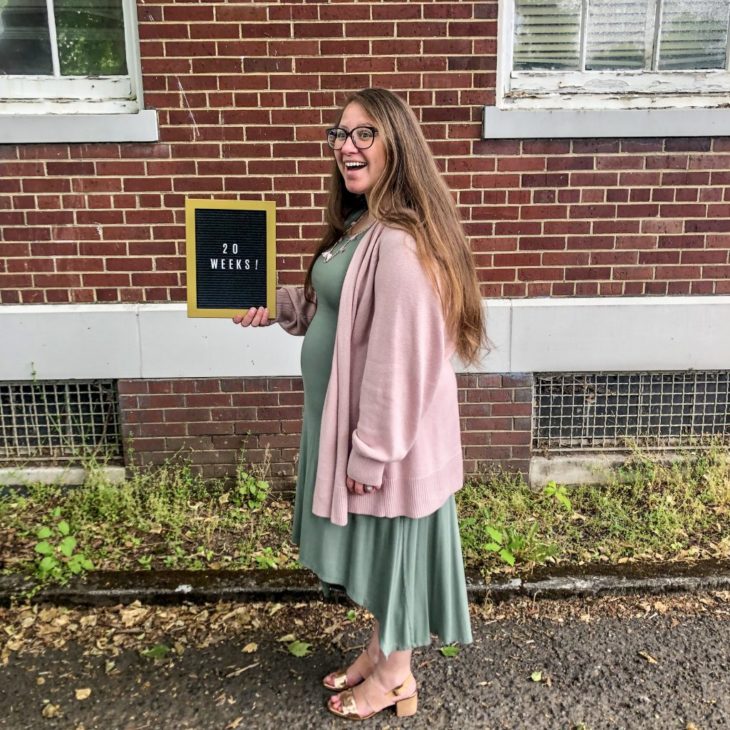 Shoes // Similar Dress // Similar cardigan
Justen told me to look excited, which I thought I did well. Also, I was consciously telling myself to not curl up my left hand fingers to prove that they're normal length, but alas… I was too busy being excited. I decided that I'll wear this same outfit every week because I always wonder about the inconsistency between outfits.
And full disclosure: I decided to wear my trusty Spanx. Mostly because I read that Spanx during pregnancy is okay (yeah I looked it up) and because I'm a little bit extra.
Here's a rundown on what I've learned the first half of my overweight pregnancy:
Everyone thinks you're showing and glowing when you know it's just years of excessive Oreo eating.
It can be hard when everyone on message boards is posting their cute little baby bumps and you're still looking down and seeing the same ol' thing.
I've LOST weight (7 pounds) since I first got pregnant. I've been eating until I'm full (my doctor asked if my weight loss was the result of eating healthier and I didn't have the heart to tell her I'd had a blizzard the day before and coffee cake for breakfast) but I just don't have much of an appetite. It's not an aversion, I'm just never that hungry.
Emotionally it's hard to suddenly have everyone really concerned with a part of your body you're really insecure about.
Our little coffee bean is healthy and active. Although my medical record lists my ongoing medical conditions as "Supervision High-Risk Pregnancy" because of "Severe Obesity In Pregnancy" (ouch), my body is still able to grow and care for a little growing human being.
The past few years have been emotionally trying for me. Seeing those conditions listed for me kind of gave me a huge wake-up call. Right now I'm just focused on letting my body rest when it needs, fueling it as best as I can (beyond blizzards and coffee cake, ok?), and having grace for myself. But after my body brings our baby into the world, I'm re-evaluating how I've been treating it (the aforementioned excessive Oreo eating) and making some changes.
For now? It's not only my home but also home to the coolest miracle I've ever been a part of. Thank you body, overweight and all.
PS. I hate when people do this sort of thing as a pregnancy announcement. Thankfully this isn't a pregnancy announcement.