After months of unsuccessfully waiting for the dumb IKEA Flisat storage table to come in stock, I finally decided to buy a bin to use with Madeleine as a sensory bin. I grabbed this 16 quart one with a lid from Target. It's a pretty good size for what it's being used for. I decided for its inaugural use, I'd make a little hot cocoa sensory bin!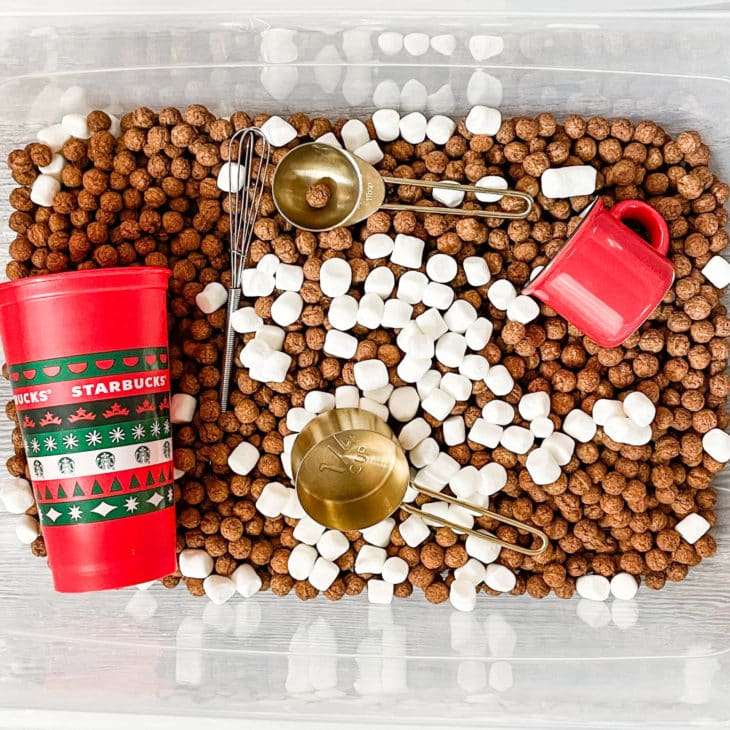 For this sensory bin, I bought one box of Cocoa Puffs, added about a cup of mini marshmallows and then added some measuring cups/spoons, a little drink whisk, a mini mug and a seasonal Starbucks reusable cup.
From the minute we took the lid off, Madeleine knew EXACTLY what to do with it. She spent 3 weeks scooping, pouring and stirring the puffs in the various cups. She didn't eat a single puff or marshmallow, but the first time her grandpa saw it, he opened it and popped a Cocoa Puff in his mouth. Madeleine stared at him and told him to spit it out and not eat her puffs.
Our friend who is 4 came over to play and she was more of a sorter, so she constantly filled the measuring cups with marshmallows and there were a few times it got a little sticky, but Madeleine was oblivious to the potential mess of the marshmallows.
Our Silly Little Elf (Madeleine named him Bruno Mars) came to play and one day he hijacked her hot cocoa bin, too!
Overall this was a really simple sensory bin that kept Madeleine entertained for a few weeks before we swapped it out for something else. I'm really looking forward to many more themed sensory bins in our future, and I'll make sure to share them all here!
But back to the hot cocoa sensory bin.
Here is a quick shopping list if you want to do this on your own:
It smelled delicious and I was surprised that aside from my dad's early mistake of eating a Cocoa Puff, Madeleine didn't attempt to consume a single puff or marshmallow! I was pretty impressed with her.
Can you think of anything else that would be great for a hot cocoa themed sensory bin?