When you've got a little kid who loves flowers and the color yellow and then you see a sunflower festival online… is there even a question you'd go? We spent a morning at the O'Keefe Sunflower Festival in Vancouver, Washington and had a great time!
Let me also say this: I found a pair of excellent condition gray crocs at Goodwill and was planning on selling them. Madeleine, unfortunately, tried them on and immediately claimed them. So now all of her cute, colorful outfits are plagued by these boring gray Crocs. I'll be buying some crocs charms, but until then… yay.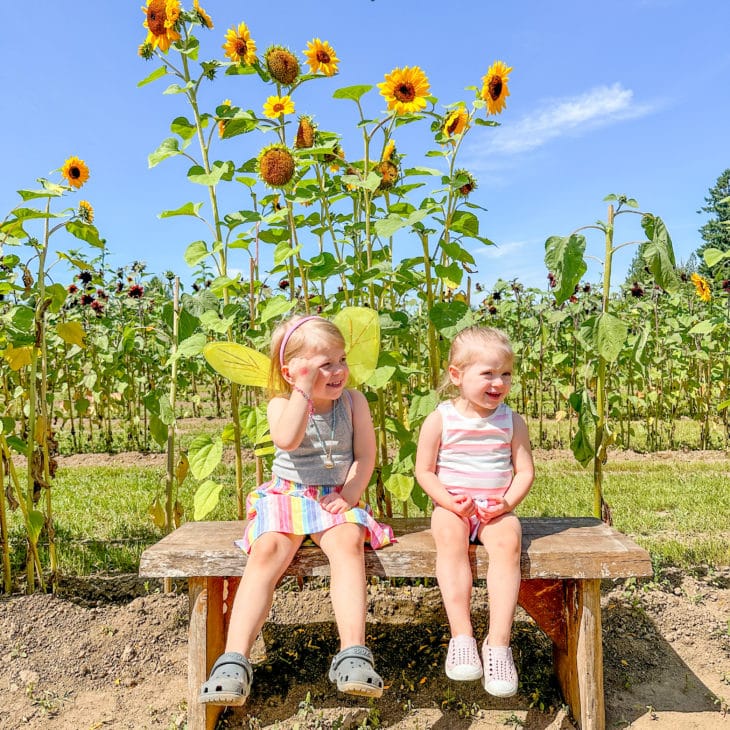 The festival was $10/adult with 2 flowers each, and each kid got to pick one sunflower. We only ended up with 4 because have you ever tried to pick out 6 sunflowers with small kids? Madeleine wanted to find the tallest sunflower to cut (which was like 9 feet high!) and Georgia just wanted to pull the signs out of the ground.
As we were getting ready to leave our house, Madeleine asked me to put on her Dollar Tree bumblebee wings. My initial reaction was to say no thank you, absolutely not.. and then I thought… what's the harm? and I am SO GLAD I changed my mind. She excitedly buzzed around while we ate lunch and dog watched. As soon as we entered the sunflower fields, we saw a giant sunflower bee and she was so happy.
Friendly reminder to myself to just calm down and let things go more than I do.
Not pictured: there was a little area before the sunflower fields with vendors and food trucks. Justen and I split a breakfast sandwich and the girls split a grilled cheese. Both were delicious.
It's amazing to me just how big sunflowers can get from such a small seed. I know that giant trees come from tiny seeds, too but there's something about a massive FLOWER that just blows my mind.
Madeleine was so excited about the hay ride. Even though we've gone on one nearly every fall she's been alive, it seemed like a whole new experience to her. I kept telling her that she's going to be such a pro when it's time for the pumpkin patch hay ride. and honestly now I'm so ready to go to a pumpkin patch!
The three loves of my life <3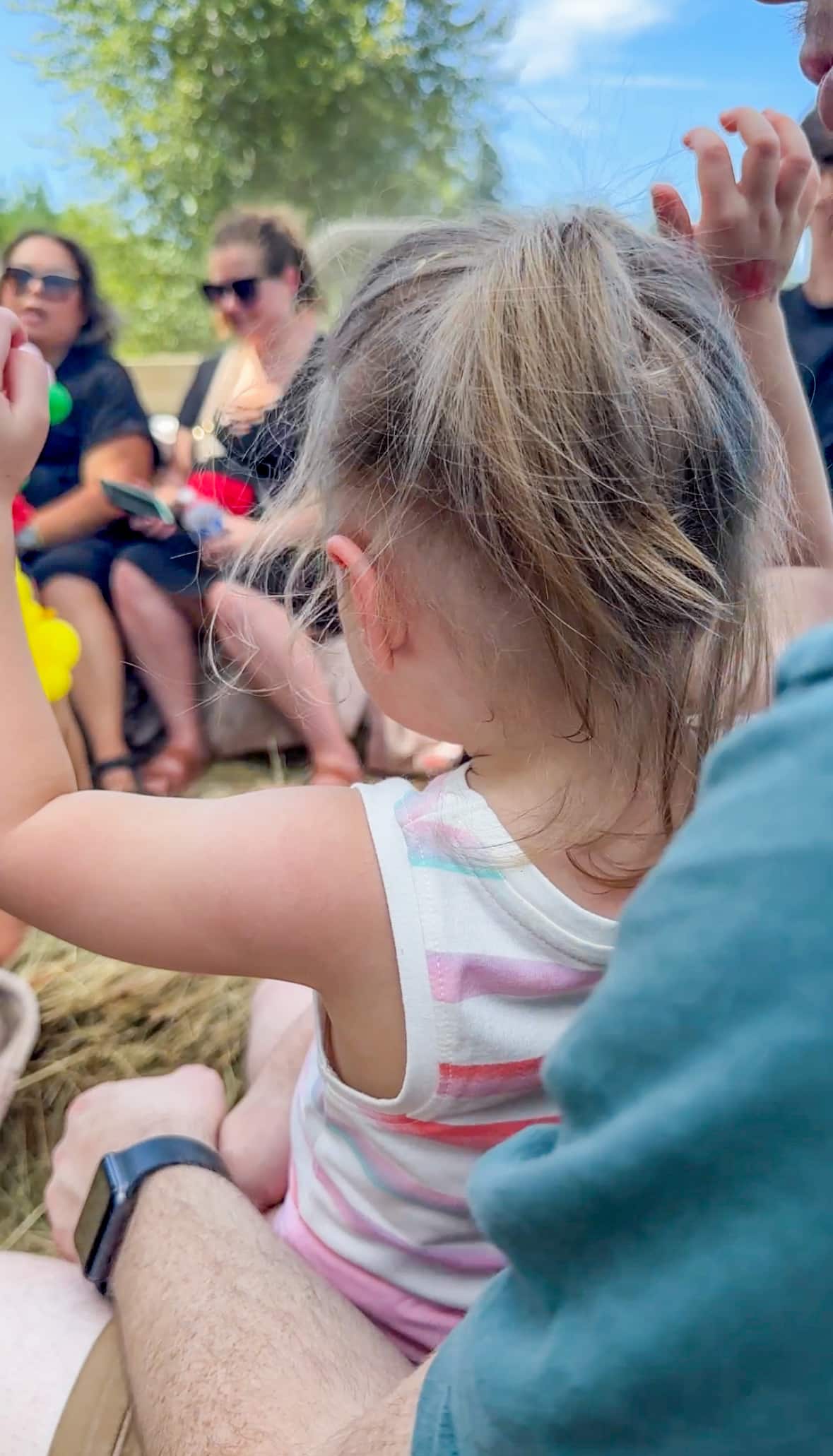 (Georgia with her hands up like she's on a thrill ride, getting ready for our trip to Disneyland!)
As we were getting into our car, I saw a huge blackberry bush and took the girls over to pick some – Georgia eats nearly anything and was a willing participant. Madeleine, on the other hand, assumes everything is disgusting and refuses to try new things. Somehow I was able to convince her to – finally, after two years – try a blackberry, and she instantly transformed into a blackberry monster, wanting to devour the whole bush.
For that, I am grateful, because we have an out of control blackberry bush across the street and the various other berries at the store are so expensive. and toddlers eat SO MANY BERRIES. If you know, you know.
I can't wait to make this an annual tradition <3 If you're in the Vancouver area, it's worth a visit!
My dress is from Stitch Fix – I saw it and IMMEDIATELY knew I wanted it. You can save 25% on your whole fix if you keep all 5 items in your Fix! I've heard of Stitch Fix for years and only recently got my first items that I kept, and I am obsessed with them!