It. has. been. a minute. and by minute, I mean like a MONTH!! We were scrambling to get things ready for Nashville, then we were in Nashville, THEN we were catching up from being in Nashville. So we've got a lot to catch up on!
please ignore my hair. I slept in braids, and this is a cause/effect demonstration of that. 
During week 24, I had this mild freak-out where I realized I hadn't felt the baby move in 24 hours. I KNOW that it was before the worry about that period PLUS I have an anterior placenta, but this baby has been so consistent about her movements that I felt like something was just OFF.
We ended up going to labor and delivery where Justen had to answer all the questions for me because I was almost in tears. Turns out I was probably just dehydrated, so that's cool. Everything was completely fine. One of the nurses welcomed me to being a mom. I told her I wasn't expecting all this worry to start so soon, haha.
The nurse said that if we were further along, they'd look for a rise in the baby's heartbeat every so often (IDK you guys I was just so freaked out and then relieved I hardly remember anything) but they wouldn't look for it because we weren't far enough along. Then she looked at the fetal heartbeat monitor printout and went "oh! but there it is! You've got an overachiever!" which is 100% Justen.
They performed an ultrasound in which they said she was overdramatic because of the way she kept turning her back whenever they tried to snap a picture of her face. That's 100% me. We saw her practicing her breathing, which was my favorite part.
So yeah. Here's a picture of our little overdramatic overachiever from that day:
That's pretty much the biggest event that's happened while I've been quiet.
While in Nashville, I did develop a little melanoma melasma (CORRECTION!), which are dark spots on your face. They're around the outside edges of my eyes as you can see in this really flattering picture:
People keep reassuring me that it's not noticeable and will go away, but I'm honestly not that concerned about it. I'm so grateful that everything has been (relatively) uneventful and low-risk so I'm fine with a surface, cosmetic change. Plus it gives character 😉
A few more uneventful weeks and here we are at Week 28. I can see my stomach move, my hips are starting to hurt a little bit, and I did the biggest, most grown-up maternal thing I've ever done.
We had to switch insurance. After being without insurance for a month, I bravely went to an all-new office and saw an all-new person… just for her to tell me she's leaving in August. Here's the thing: sometimes you are brave and go places you've never gone before and then other times you sit in your car crying for 20 minutes because you're going to have to keep doing this whole new person thing over and over.
I took my glucose test, which is just a bummer because after not eating for 8 hours, they were 45 minutes late administering the test. I took a TDAP vaccine in my left arm so chose my right arm for the 3 blood draws and when the lady said my arm(s) would probably be sore, I tried to get her to tell me I won't be able to do dishes. But she wouldn't say that. The audacity of some people.
This week, we're putting all the baby's stuff together. We ordered a crib and changing table… y'all I am dying how cute are they…?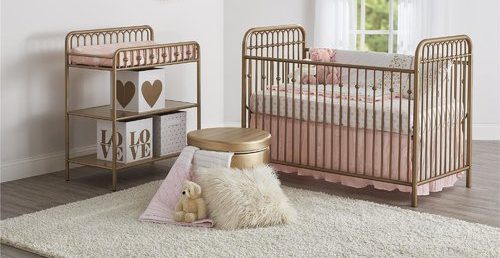 SO ANYWAY, we ordered those and we've started brainstorming where to put this baby and this weekend we're rearranging our room to accommodate our tiny addition. I'm really excited. I decided I'd go ahead and get a head start and do what I can, and this is as far as I got:
I put the changing pad cover on. LOL. I guess maybe the nesting thing is finally starting to kick in since I'll actually be able to do something, though last weekend we spent half of Saturday cleaning our apartment. I cleaned our diffusers and I went ahead and had a party with my new Dymo label maker. Also a year ago if I tried to take a picture and my stomach was photobombing it, I would have been so ashamed and now I'm like "THERE'S AN ACTUAL HUMAN BEING IN THERE WHAT SORCERY IS THIS"
So this is 28 weeks. Homegirl has a high rate of survival should she come early, and that has been the spot I've been living for. I know it's not quite the home stretch, but I (hypothetically) breathe a little easier. Hypothetically because I tried walking to the Farmers Market while on the phone with my dad and he asked what was wrong because I was so out of breath.
What a ride this is, y'all.
Baby Martian // Week 23
Baby Martian // Week 22
Baby Martian // Week 20