HAPPY FRIDAY!
We made it! Something I used to do on my old blog (stephanieorefice.net) was a Friday Five type situation. Five on Friday, I think. I'm bringing it back as an attempt to breathe some L-I-F-E into this little blog I'm paying for. Expensive hobby I never do!
So anyway! Five of my favorite things on a Friday, starting RIGHT NOW.
ONE // Multitasky laptop sleeve and stand
This is a very AT THIS MOMENT favorite. I'm at Starbucks working and it's my first time really utilizing this multitasky laptop stand. It starts as a sleeve for transporting your laptop. Super soft lining so no scratches or worries there, and then you do a little bibbidi bobbidi boo situation and it becomes a stand with wrist rest.
I will never again leave my computer sitting flat on the table, this is far more comfortable on my back, wrists, everything. Use code STEPHANIEMARTIAN for 10% off your purchase at multitasky (there are SO MANY cute, useful gadgets!).
TWO // Laurie Berkner Band Tonie
If you're not on the Tonie Train, ALL ABOARD! I love that our Tonie Box offers music and stories without a screen (and without hearing Madeleine yell at Alexa to change the song 15 seconds into the one she just requested 🥲). When we saw that the Laurie Berkener Band was coming out with their own Tonie, we had to get it. Unfortunately when I first went to buy it, it was out of stock. So the MINUTE I got the restock notification, I bought it. Madeleine's favorite jam (Fruit Salad Salsa) isn't on there, but we have quickly fallen in love with ALL of the songs. If you have a Tonie Box, you absolutely need this tonie! If not, grab a Tonie Box ASAP.
THREE // My Favorite Songs Spotify Playlist
A few years ago I spent the time carefully curating some of my all-time favorite songs from the late 00's-early 10's. and when I put it on shuffle, it gives me more joy than I could imagine. I am very proud of this playlist. These are all upbeat songs. My chill playlist isn't as impressive because I haven't given it as much time as this one.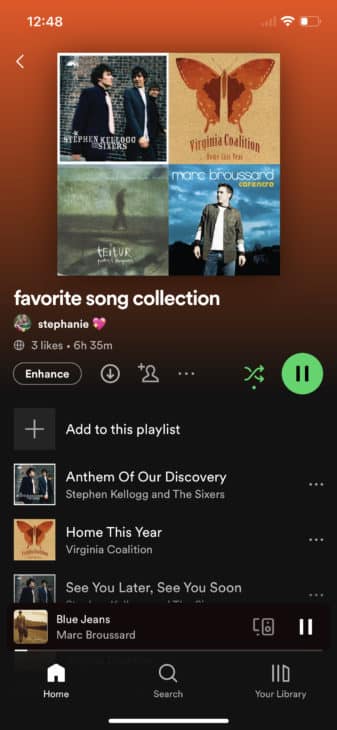 FOUR // O.R.G Mineral Peel Body
I received this O.R.G. Mineral Peel Body in the mail and I was a little skeptical about it, but one night I was up late and bored so I figured I'd give it a shot and WOW.
Recently, our sheets at the bottom had this huge hole and distressing in them. I said "I wonder how that happened!" to Justen and he had THE AUDACITY to suggest it was the callouses on my feet. How embarrassing. So I've been using this Mineral Peel on my heels and feet and it's making a huge difference!
You spray it on, give it a minute and then rub it off in a circular motion (I use a washcloth) and it literally scrubs off the dead skin. I'm amazed. They shared a code with me in case you want to try it yourself! NewSkin25 will save you money on their site!
FIVE // TRU FRU
I was heavily influenced by my friend Lanae who is always posting about her love for Tru Fru, so I grabbed some for a treat for us and when I tell you THEY DID NOT DISAPPOINT.
The frozen bananas in Peanut Butter & Chocolate were a personal fave. They're a great treat at the end of a long day. Gives very ice cream treat vibes without being an actual ice cream treat. Pick them up if you see them!